If you feel the need to change your life for a little while, or you're craving a true adventure to rock your world, you might want to leave everything behind and go on a magnificent trip to another country and visit an attraction you'd never imagine actually exists.
At Apegeo, we want to share 12 out-of-this-world attractions with you that might change the way you view the world.
1. A 500-foot-high bridge in China
If you're seeking more thrills and adventure in your life, this
sky bridge
is definitely for you. Located in Chongqing, China, this bridge scares thousands of tourists every year. Every person walks at an altitude of 500 feet, so obviously they are all protected by insurance. Be careful with your shoes though! If you lose them, insurance doesn't cover it.
2. Tianzi Garden Hotel, China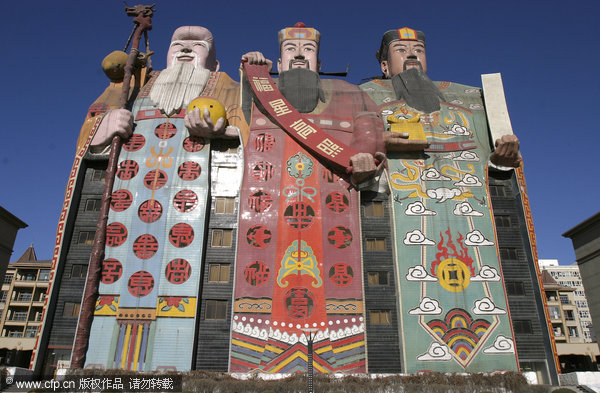 This truly magnificent image isn't just another Chinese statue. No, this is the Son of Heaven Hotel located in Langfang, China.
The design of this fantastic building is an exact copy of the 3 Chinese Gods of luck — Fu, Lu, and Shaw, all of which are made out of Chinese porcelain. God Fu, the central figure in the red dress, symbolizes happiness and luck, Lou, standing to the right in the green dress is responsible for prosperity and wealth, and the last God, Shaw, is a symbol of health and longevity.
3. Haw Par Villa Gardens, Singapore
Don't worry, this is not a cursed image, but merely an entrance to a theme park called Haw Par Villa Gardens located in Singapore. There are more than 1,000 statues and dioramas here, amongst which sits this gigantic mask of Bao Zheng, or Justice Bao, protecting the park.
4. CN Tower, Canada
The view from the CN Tower in Ontario, Canada is purely breathtaking. It was the highest free-standing building in the world from 1976 to 2007 with a height of 553.33 meters and is a symbol of the city.
If you love to have adrenaline flowing through your veins, don't skip out on going up to the highest point of the CN Tower. We can promise that it will leave you breathless.
5. Cube Houses in The Netherlands
Would you like to completely change your idea of what a house is? Then you must visit the Cube Houses. Famous architect, Pete Blom designed these original houses in Rotterdam, The Netherlands in 1984 and thanks to their bright and unique design, they became known all over the world in a short period of time.
What is so peculiar about these structures according to thousands of fans? The secret to the Dutch architect's success is the angle of the hexagon that he uses, letting the cubes turn at about 45 degrees.
6. Device to Root Out Evil, Mallorca
© Wikinger wiki / Wikimedia Commons
Continuing with the theme of weird and fantastical houses, here is the most famous work of the innovative conceptual artist, Dennis Oppenheim, which was first presented at the Venice Biennale in 1997. Device to Root Out Evil is an 8-meter village church built like a New England home, plunging into the ground by a spire.
It is quite a controversial sculpture, and it has traveled around a lot. Today, it's situated in the Plaza de la Puerta de Santa Catalina in Palma, Mallorca.
7. Carhenge, USA
If you're a longtime fan of both weird structures and vintage cars, then this next statue is for you.
Carhenge is a copy of Stonehenge, located in Nebraska, USA. It is drastically different from the original since instead of being made with megalith stones, it's made of old American cars that are painted gray. Carhenge was built by Jim Reynders during the solstice of 1987.
If you believe your life has gotten boring in the last couple of months, you might want to visit this glass bridge known as the East Taiheng Glasswalk, in Hubei, China. Chinese architects have really outdone themselves this time. Not only is this bridge made out of glass (which already gives us the chills), but it also has a terrifying cracking effect. So along with feeling like you're falling, you'll also see yourself going down.
9. Charybdis Fountain, Northern England
Charybdis is the largest air sculpture-funnel, which allowed its creator to explore the elements of water more creatively.
According to Greek mythology, in the Sicilian Sea, there were 2 mermaids named Charybdis and Scylla. Charybdis stole Hercules' oxen, and Zeus struck her with lightning which resulted in a big swirling vortex that swallowed up many ships.
This story inspired William Pye to create a miracle fountain he called Charybdis. In this funnel, water moves in a circle in a transparent acrylic cylinder and forms an air vortex in the center of the whirlpool.
10. Waitomo, New Zealand
Waitomo, which lies on one of the largest islands of New Zealand, is famous for its impressive limestone caves, which are not only striking on their own but are also even more special because of the numerous fireflies that call the underground mazes their home. Thousands of tiny insects emit phosphorescent light, creating surreal light installations.
If you'd love to feel as though you'd stepped foot onto some mysterious land of magical creatures, you absolutely need to visit this place.
11. Banpo Bridge Rainbow Fountain, South Korea
If you want to see one of the most beautiful fountains in the world, you need to visit South Korea, as it's there you'll find the longest bridge-fountain in the world. 10,000 LEDs and 380 water jets are involved in this water attraction, which emits 190 tons of water under colossal pressure. The water is taken directly from the Han River. Fountain shows are held every day from April to October.
12. Swarovski Crystal Head Fountain, Austria
Last, but certainly not least on this list, is the Swarovski Crystal Head Fountain located in Innsbruck, Austria.
The fountain was invented by the Austrian artist, Andre Heller. Inside the building, there is the Swarovski Museum, which is made in the form of a huge head covered in grass. Water flows magnificently from the "mouth" of the head, and the "eyes" are made of Swarovski glass.
If you have more fantastic places to share with other travelers like yourself, please do so in the comments below.