A strong tsunami triggered by a magnitude 7.5 earthquake has hit a coastal Indonesian city, officials say.
Waves of up to 2m (6.6ft) high swept through Palu on Sulawesi island, not long after authorities had lifted a tsunami warning.
Video on social media shows people screaming and fleeing in panic and a mosque amongst the buildings damaged.
Officials have reported five deaths – but it is not clear if those were as a result of the tsunami.
Last month, a series of earthquakes struck the Indonesian island of Lombok, killing hundreds of people – the biggest on 5 August killed more than 460.
Indonesia geophysics agency says Sulawesi quake caused a tsunami. This video is doing the rounds. We believe it is real. pic.twitter.com/7xDzzRuj5v

— David Lipson (@davidlipson) September 28, 2018
The earthquake quake hit just off central Sulawesi at a depth of 10km (6.2 miles) just before 18:00 (11:00 GMT), the US Geological Survey said.
A tsunami warning was issued, but lifted within the hour.
The unverified dramatic video footage of the Palu tsunami shows the high waves sweeping away several buildings and then the large tilted mosque in the town, about 80km from the quake's epicentre.
Dwikorita Karnawati, head of Indonesia's meteorology and geophysics agency, BMKG, said the tsunami had receded.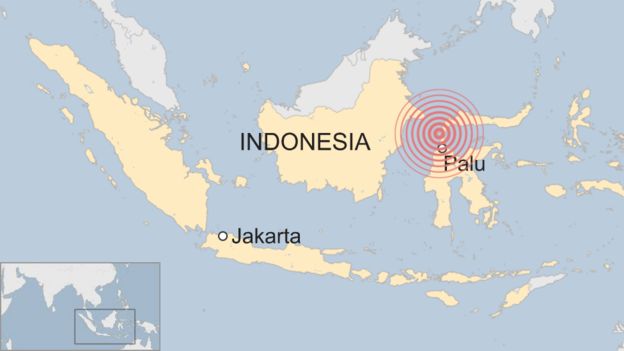 "The situation is chaotic, people are running on the streets and buildings collapsed. There is a ship washed ashore," she added.
The 2004 tsunami triggered by an earthquake off the Indonesian island of Sumatra killed 226,000 across the Indian Ocean, including more than 120,000 in Indonesia.
Indonesia is prone to earthquakes because it lies on the Ring of Fire – the line of frequent quakes and volcanic eruptions that circles virtually the entire Pacific rim.
More than half of the world's active volcanoes above sea level are part of the ring.
'Many houses have fallen down'
An official with the local disaster agency, Akris, said "many houses have collapsed".
"It happened while we still have difficulties in collecting data from nine villages affected by the first quake," he said.
"People ran out in panic." National Disaster Mitigation Agency spokesman Sutopo Purwo Nugroho said communications with the region were disrupted.
"Our early estimation, based on experience, is that it caused widespread damage, beginning from (the provincial capital) Palu northward to Donggala," he told MetroTV in an interview.

Officials say building have collapsed as a result of the tremor(Image: Youtube)
Map pinpoints where tsunami hit
Earlier today, Indonesia's meteorology agency issued early tsunami warnings for people in Sulawesi.
Officials say waters have since receded, but families are still missing.
@Bloomberg @The_Japan_News @Reuters @japantimes

Huge Tsunami hit north east after 7.7 Richter Scale quake at 10 km sea depth north east Donggala Celebes (Sulawesi) Indonesia.pic.twitter.com/tFhvLwXhoZ pic.twitter.com/0wsD6fzGAJ

— InformationGazette (@InfoGazette) September 28, 2018
Fears for relatives
People are said to now be unable to to call their relatives in that region, with reports of darkness, and power outage.
A woman reports that a video of the tsunami was recorded in front of the Hammer Grand Mall.
This is a video that appears to show a major tsunami in Central Sulawesi, Indonesia.

Via @DianOnno. She also said that people are now unable to to call their relatives in that region. pic.twitter.com/dBnNiF34fs

— Herman Saksono (@hermansaksono) September 28, 2018
Devastation from tsunami
Footage showing waves crashing down onto an Indonesian island was a tsunami, it has been confirmed.
In the shocking video, apparently recorded in Palu, Sulawesi, today, enormous waves can be seen surging forward amid terrified screams.
The water knocks down homes, leaving a trail of destruction in its path.
Tsunami terjadi di palu sulawesi indonesia pic.twitter.com/r1naog3h2m

— Sugianto Nangolah (@SugiantoNangol1) September 28, 2018
Shocking scenes of flooding
Footage shows the moment that huge waves crash onto land before flooding the area.
Screams can be heard as panicked people flee in terror.
Selamat saudara" kami di Donggala, Palu, Ya Allah #gempa pic.twitter.com/5mbWYpkQa5

— PMII Channel (@pmiichannel_) September 28, 2018
Man films his bloodied hands
A man has filmed himself with bloodied hands in the moments after the quake.
The video is one of many emerging on social media in the aftermath of the tremor.
In the footage, the man appears to be surrounded by collapsed buildings.
Screams can be heard in the background.
Suasana sesaat setelah gempa Donggala, Palu, Sulteng pic.twitter.com/Y5iVjcD6tG

— IG : Daeng Info (@Daeng_Info) September 28, 2018
Warning lifted
The tsunami warning has been lifted, but officials have asked people in the affected area to remain on the alert.
It comes as a number of moderate aftershocks hit the area.
"We advise people to remain in safe area, stay away from damaged buildings," Nugroho said.

A shake map shows the epicenter of the second quake (Image: REX/Shutterstock)

Magnitude of 7.5
The U.S. Geological Survey has put the magnitude of the second quake at a strong 7.5, after first saying it was 7.7.
In an earlier TV interview, the National Disaster Mitigation Agency urged people in certain areas to evacuate to higher ground.
"People in shore areas, please move away from the coastline," spokesman Sutopo Purwo Nugroho said.
People in Central Sulawesi and West Sulawesi provinces are among those feared to be at risk.
The tremor follows a milder quake, which destroyed some homes, killing one person and injuring at least 10 others.