Minnesota police arrested Lloyd Edward Johnson, 55, of Eden Prairie on Wednesday after a cell phone video of Johnson allegedly pulling a gun on a group of black Somali Muslim teens at a McDonald's went viral on Twitter.
In a statement, the Eden Prairie police department said that Johnson was arrested "under probable cause for second-degree assault" and that the case has been referred to the Hennepin County Attorney's office for a sentencing decision.
Johnson is currently being held without bail, per the Hennepin County jail's website.
Farida Osman, 16, who taped and uploaded the viral video, told Tuesday that before she started recording, Johnson had grown impatient while standing in line waiting for two of her friends — who are also black and wear hijab — to pay for their food using the ApplePay app.
After the transaction failed, Farida said, Johnson accused the two young women of attempting to pay for the food using EBT, or Electronic Benefit Transfer, a program that allows welfare recipients to purchase items using food stamps via a card or phone app.
Farida told that this angered her friend who had been trying to purchase the food.
"Jihan said, 'Just because I'm black does not mean I use EBT.' Basically after that, he was trying to say, 'You do use EBT,' and Jihan was saying, 'No I don't,' and telling him to stop being racist."
Amal Mohammed, 17, whose red hijab can be seen in the video, told that she attempted to get between Johnson and Jihan when they began yelling at each other over his remarks, but got scared when he turned his attention to her.
"The guy got close to my face and his fists were kinda balled up and I felt threatened," Amal told. She said that at this point she asked a group of male friends who were seated to help her deescalate the situation.
"Once he saw a big group of Somali boys, he felt even more threatened, even though nobody made threats or touched him," she said.
Farida began recording on her phone.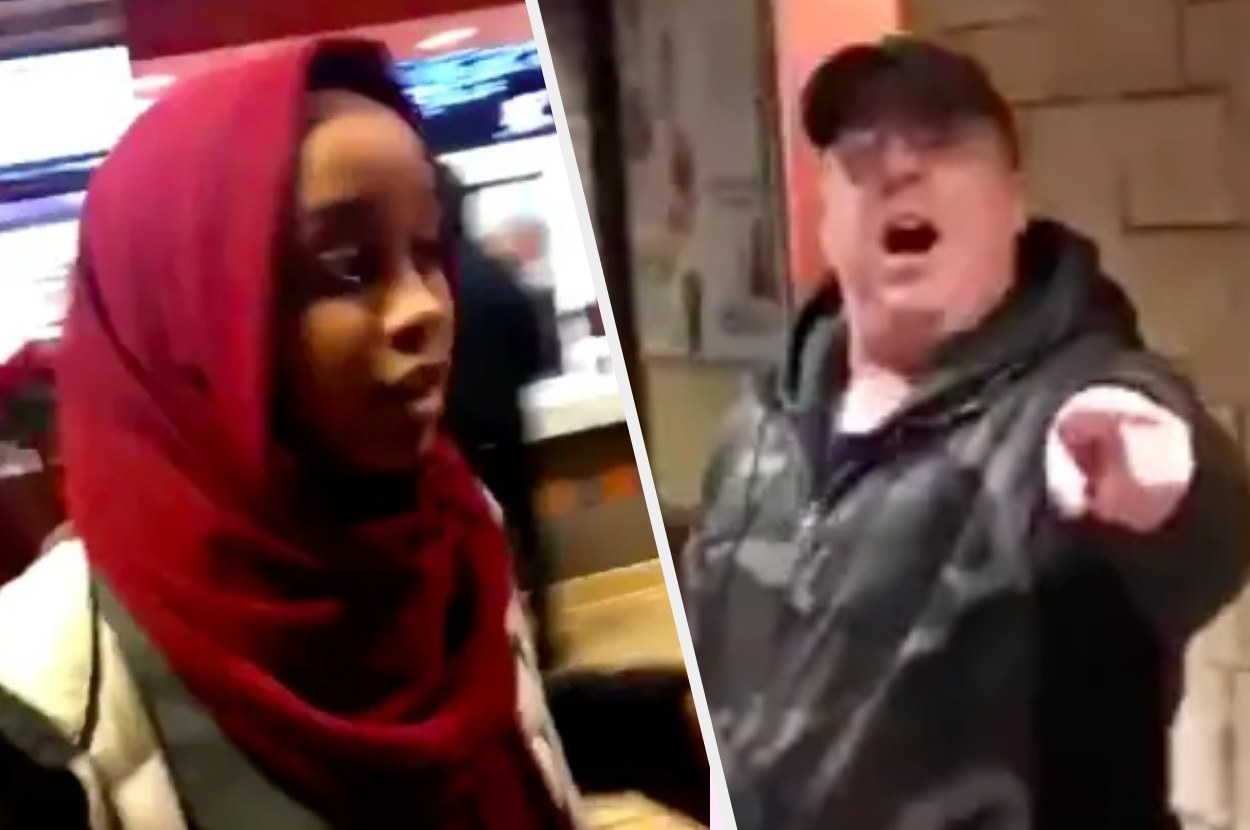 Farida's video of the encounter has been viewed more than 2 million times since being posted Monday.
@McDonalds is this what you stand for? We were just trying to order when this man said racist remarks, claimed to be touched (when really he pushed a kid as seen on video) pulled a gun out on kids and you still kick us out knowing we're in danger? 1/2 pic.twitter.com/3vKXsxhuwH

— farida (@snatchingedgess) November 20, 2018
Farida told that she believes the fact that she and her friends were black and primarily Somali — and that the four young women in the group wore hijab and were obviously Muslim — was the primary reason for the confrontation and affected the way that the McDonald's employees responded to it.
"I think it's because we were black and Muslim," Farida said. "I've had people being racist towards me before, but I've never had a gun pulled on me until now."